"If #ned Netherlands wins the #worldcup worldcup WORLD CUP: HOLLAND REACHES WORLD CUP FINAL I will give a BJ to all my followers,together with @vickyvette @misshybrid @gabbyquinteros" – Bobbi Eden
This is the tweet that the Futbol world and Adult Industry have been going crazy over since the Netherlands defeated Uruguay in the World Cup semi-finals and clinched their spot in the final game. The three other porn actresses mentioned are
Vicky Vette
,
Miss Hybrid
, and
Gabby Quinteros
. At the time of the comment, the porn star had about 5,000 followers.
Bobbi Eden
currently has over 68,000 followers on Twitter, picking up an astonishing 63,000 since making the offer. We'll keep the numbers round for ease of use at the moment. Taking 68,000 followers and assuming that this tweet reads as offering 1 blowjob per follower between the four girls, would equate to 17,000 individual cocks per porn star.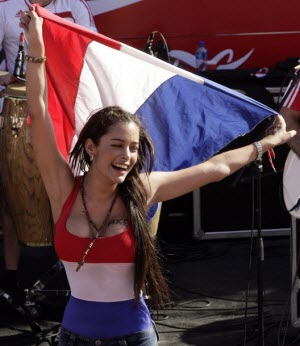 Considering porn star Candy Apples, who attempted to reach 2000 sex acts in 1999, was broken up by LA police after a record 743, this would be the most ambitious sexual endeavor known to date. The criteria for this event would most definitely need to be hashed out before hand. Does one suck count? Is every act required to end in a male climax? There are many questions that need to be answered for world record keeping.
If the Netherlands happens to lose the World Cup final to Spain, don't let disappointment set in too far. Regardless of who wins, we will all receive a fairly humorous and sexy consolation prize. Larissa Riquelme, a popular Paraguayan lingerie model, promised to run through the streets of Asuncion naked if Paraguay were to win the World Cup. Although Paraguay has now lost to Spain, Larissa has promised to do it anyway.
"It will be a present to all of the players, and for all the people in Paraguay to enjoy," she said. "They tried as hard as possible and gave it their all on the field." – Larissa Riquelme