Why do condoms have to be so difficult? The first latex condom was made in 1920. That was 95 years ago! How have we not created a better product by now?! Let's just go over some of the difficulties.
First off, the packaging. What kind of super material is this? It seems easy enough to tear right open, but no. Once you break through that initial packaging layer, you then have to deal with the inner stretchy packaging part that doesn't rip open half the time.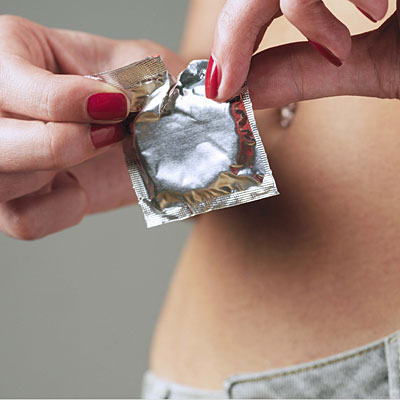 Great, now you're sitting on the bed, boner down to a half chub, all because this fucking wrapper is made out of some sort of impenetrable spandex. With every passing second spent fighting the condom, your confidence in your masculinity is dwindling.
Now comes the awkward apology. You have to try and tell the girl starting to get impatient lying in your bed that this is all just bad luck. You don't usually have this sort of trouble. I mean, it's opening a condom wrapper for God's sake. Who has trouble with this?! But the more you struggle, the harder it becomes. And now you notice your girl is falling more and more out of the mood. Quick! There's only so much time before the moment has passed.
Okay, so you finally got that latex little devil out. Now for the easy part. Just slip that thing right on, and then it's time for the bone zone. Woo! Not so fast…
See, you just spent so much time battling the wrapper that now your hard-on is almost completely gone. What do you do? Do you try to force the condom on your limp penis? Or do you go back to step one and go through more foreplay? If you have a good partner then option 2 is definitely the way to go. Hopefully she understands your struggles and gets you right back in the mood. But what if this girl is kind of a bitch? You might try and force it. You don't want to make her wait any longer out of fear that she might just get up and leave. If this is the route you choose, I wish you the best of luck. Just be aware, this situation could end in a lot of frustration and no sex.
These are just some of the struggles one can go through when attempting to put on a condom. Normal functions become difficult because, let's be real, you just want to start having sex as quickly as possible. Things get rushed and mistakes get made. So why after almost 100 damn years has a condom company not come up with a super easy to use product?
The best thing I could find that seems like it would solve a lot of these problems is a condom design made by Pronto. The only problem is that these things seem to only be accessible in South Africa. If you manage to find any online, please share how. Hopefully their design will spark interest in another larger company to make and distribute a product like this on a wider scale. Although, this video is a few years old, and I still haven't seen anything like this in my local pharmacy. So perhaps it's only wishful thinking.